Yes!,Now its possible to convert Ola money into mobile recharges.Before,Ola money is only used for booking cabs, rickshaw , etc but by this trick you will able to use it for mobile recharges too.Let's find out how to do it..!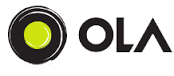 How to use Ola money to Recharge mobile numbers
2) Register for a account
3) Then Recharge your mobile number
4) Pay via Ola money
5)That's it!
Note:-
Before continuing to download the app.Make sure ola app is installed in yourdevice.AlsoThis trick will work only if you have Ola money in your account. Ola New users cant avail this benefit because now they give free rides for refering friends..!